Seven's share was up close to 40% in combined channel share last night thanks in part to a bigger audience watching 7TWO.
In Rio Today was down a little on the Monday numbers, but both the Evening and Late Night slots were up slightly.
The Olympics day 11 means the end is almost in sight with Australia's medal tally edging just that little bit higher overnight.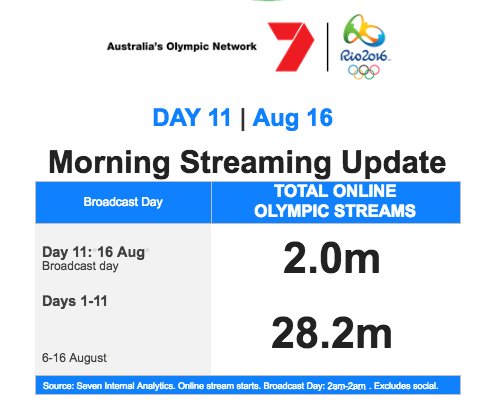 This is how the numbers looked for the end of day 10 and the start of day 11:
Sunrise 389,000
Day 10 – day 433,000
Day 10 – highlights 300,000
The Chase 478,000/729,000
Seven News 1.22m/914,000 (No Adelaide and Perth at 6.30pm)
In Rio Today 1.02m
Day 11 – evening 853,000
Day 11 late – 548,000
Online streams day 11 – 2.0m (Cume streams days 1-11 28.2m)
Follow Mediaweek on Twitter (@mediaweekAUS) for updated Rio ratings across each day of the Games.